Emergency Resident's Assembly Decision: Largest participation rate ever
After months of peaceful struggle against an attempted takeover, Auroville residents strongly raised their voice to affirm their unity and their key role in the future of Auroville. Despite threats, allegations and false claims, despite the hijacking of all internal communication platforms and a very short time to vote, all hurdles have been overcome through the power of unity.
On August 24th, 2022, almost 50% of the entire population of eligible voters participated in this historical vote, passing a resolution that declared null and void all the decisions forcefully passed by civil servant Jayanti Ravi, Secretary of the Auroville Foundation. It is the largest participation rate ever in the history of Auroville: 1161 people participated, of which 97% (1122) have stamped their agreement to the resolution, 1% (10)  of residents disagreed and 2% (22) chose to tick the abstain option, almost five times more than the required quorum of 239.
All groups, committees and the members chosen as representatives of the Residents' Assembly (RA) are fully recognised and can function with full empowerment of the RA. The resident members of groups and committees who are rejected by the RA are prohibited from acting and communicating on behalf of Auroville with immediate effect. The ruling of Hon'ble Madras High Court will be implemented with letter and spirit.
The residents have proved that Auroville is united and stronger than ever before; the voice of the Residents' Assembly is loud and clear. The unprecedented outcome of this vote is one more milestone of the togetherness and unity of Auroville residents.
Big thanks to everyone, especially the RAS team, for holding the space of integrity and unity.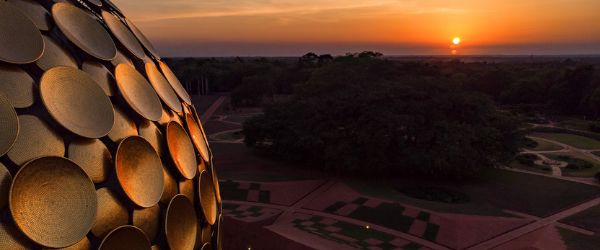 A UNESCO project endorsed 5 times
>3,000 people from 60 countries
An experiment in human unity
A small town managing its school system, health clinics, waste…