Summary of the current crisis

Part 2
Responses from a Resilient Community
Last update: 15th August 2023
The current crisis has tested Aurovilians to their very core, subjecting the Auroville project to unparalleled risks. Yet, it has simultaneously carved out a chance for transformation, allowing the reiteration of Auroville's purpose and its profound values.
This note seeks to ponder upon how residents have exhibited resilience and ingenuity in the face of daunting challenges, enabling them to persist in advancing the city in alignment with its original Charter and vision. While this endeavor remains considerably distant from perfection and the situation grows increasingly worrisome, it is equally crucial to acknowledge and celebrate the courageous strides undertaken by the Auroville community amidst the turmoil.
This page may not make much sense if you haven't read the first part of the summary of the current crisis, dedicated to the question: What Is Currently Under Threat?
Since the appointement of a new Secretary to the Auroville Foundation in 2021, Auroville has progressively been plunged into what is probably its biggest crisis since its inauguration. 
All that has been achieved and embodied in 50+ years of Auroville's existence, all that Auroville stands for, is currently at risk. We invite you to read more by clicking the button below.
(This video was prepared in December 2022, over a year after the forcible takeover and bulldozing of Auroville had started.)
Responses from a Resilient Community
Upholding Residents' Voices
Representatives of the community have approached the courts to uphold the voice of the Residents' Assembly.
Achieving New Milestones​
In 2022, participation in collective decision-making and community life has reached its peak records.
'Dreamweaving' - Bridging Diversities​
A new participatory planning process was organised as a constructive step to bridge and integrate diversities.
Fostering a Sense of Community​
The community has come together repeatedly, and shown support to those directly impacted by the ongoing crisis.
Safeguarding Auroville's Ecology & Spaces​
Committed to protecting the exemplary work done over decades, Aurovilians mobilized and approached the NGT.
Nurturing Dialogue & Unity​
Many attempts to restore dialogue take place, together with meditations and events invoking the spirit of Auroville.
Upholding Residents' Voices
In response to the repeated instances in which the Residents' Assembly had been bypassed and its voice discarded, representatives of the community approached the Madras High Court. A judgement was issued on 12th August 2022, and emphasised the importance of mutuality and collaboration in the functioning of the Auroville Foundation. As such, the ruling upheld the role of the Residents' Assembly in the functioning of Auroville. The AVFO appealed the judgement, and a final verdict is yet to be given. Since then, takeovers have continued and residents have filed additional cases with the Madras High Court, seeking nothing more than to protect their rights to select their own representatives and to participate in important decision-making for Auroville.
To face the forcible takeover of their public relations outlet, Outreach Media, and consequently, the increase of fake news and fallacious statements in the media, the residents of Auroville have created a new public relations service called "Auroville Media Liaison", which functions under the Working Committee of the Residents' Assembly.
Over the years, the number of residents who have involved themselves in the collective decision-making processes of Auroville has been around 15% of the total adult population, equivalent to approximately 350 residents. With Auroville's recent developments, this number has increased, and the Residents' Assembly latest voting process gathered approximately 1200 Aurovilians, nearly quadrupling the usual number of participants. Up to 97% of the voters who participated in 2022's decision-making events have denounced the AVFO's actions and ways of functioning, expressing an almost unanimous voice on the recent takeover of Auroville.
The local Tamil community has also raised its voice and organised an important meeting – held in Tamil and translated in English – to uphold the role and function of the Residents' Assembly, with over 600 residents attending. Significant milestones in terms of community participation have been achieved, providing encouraging signs for Auroville's future.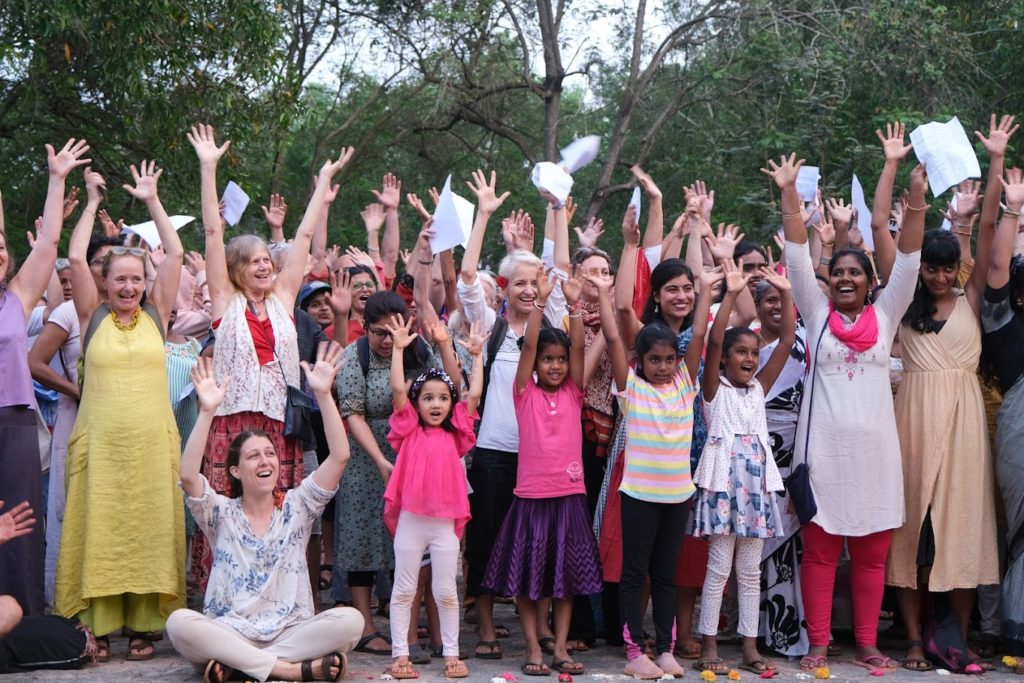 'Dreamweaving' - Bridging Diversities
In early 2022, 70 Aurovilians took part in an unprecedented collective visioning experiment: "Dreamweaving the Auroville Crown". With the goal of envisioning a conscious and ecological development of the Crown way, these architects, town planners, multidisciplinary experts, focus groups, and randomly selected residents came together to advance Auroville's collaborative urban design process. The Dreamweaving process has been praised by many experts, including the esteemed late BV Doshi, the Pritzker prize-winning architect and former Governing Board member, as an innovative way forward to co-create sustainable and functional plans. Auroville residents and many others see Dreamweaving as a positive and constructive solution during a time of conflict, a participatory process to evolve Auroville's development.
In March 2023, duly selected representatives of the Residents' Assembly proposed participative processes to underpin the 'Detailed Development Plans' required for city development, drawing from Auroville's experience with the Dreamweaving. Since then, preliminary meetings with different stakeholders have taken place, and funding has been received. Residents and their representatives are committed to developing the city of Auroville in a participative and sustainable way, based on and further nurturing the ideals of Auroville.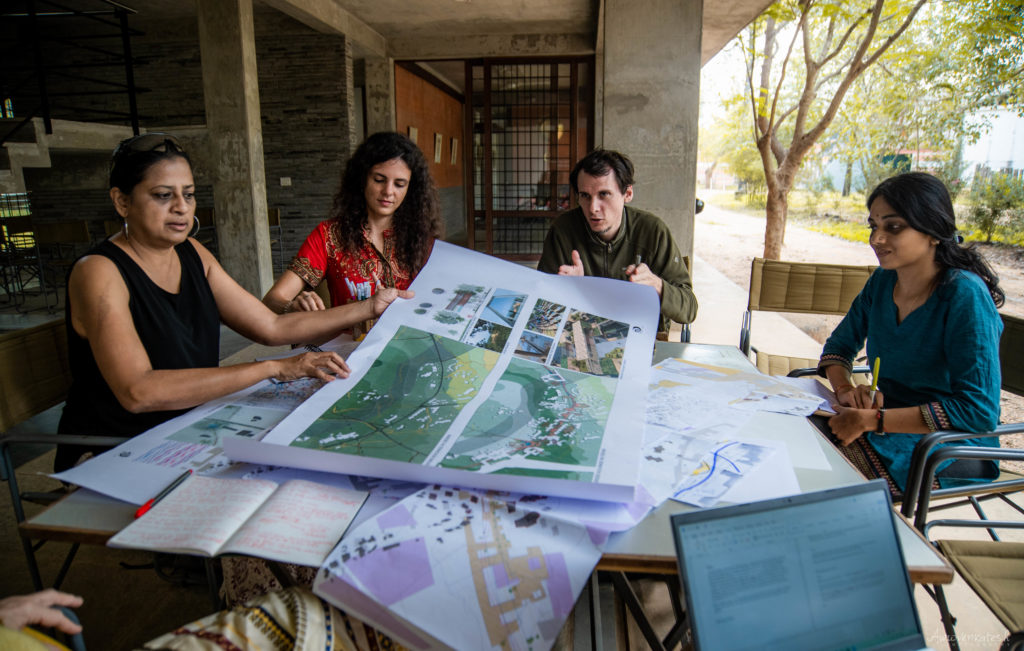 Fostering a Sense of Community
The Auroville community has been organising regular events to come together during times of crisis – from concerts to meetings, even giant potlucks. As a case example, a community event which included a shared meal was organised by a group of Auroville youth and gathered over 1000 participants. Its core message was to remember and nurture the fraternity that binds all Aurovilians, all children of the Mother. Several 'Unity Walks' were also organised to express peaceful dissent while enjoying moments of shared activity. Meetings to discuss the unfolding of events in Auroville are organised on a weekly basis and are attended by many residents, as well as some of their elected representatives.
In response to the dismissal of Aurovilians from their workplace and the abrupt interruption of allowances and budgets, crowd-funding and financial solidarity have become the norm. Thanks to donations from Aurovilians, Auroville International Centers from across the globe, and other well-wishers in India and abroad, some of Auroville's essential services have been able to continue to function.
Also, in many of the instances where some individuals were targeted by the AVFO through threats of eviction, visa withdrawal or cutting of funds, the community has mobilised in solidarity for those impacted – either through collective statements or through physical mobilisation. In times of struggle, many Aurovilians have demonstrated what a real community feels like.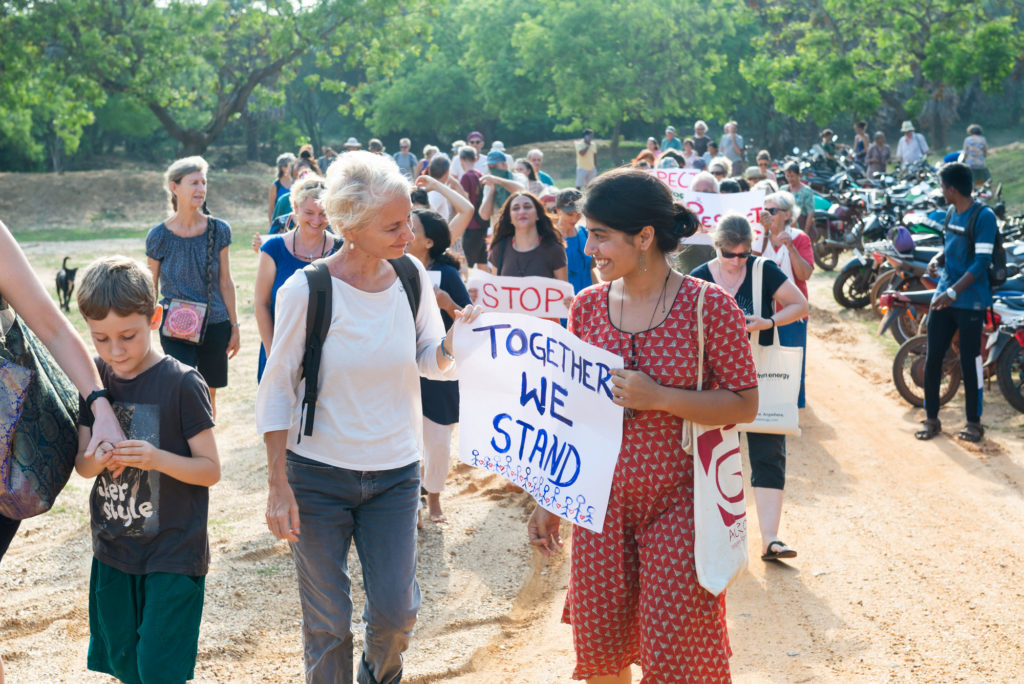 Safeguarding Auroville's Ecology & Spaces
With the imminent threats of bulldozing through some of Auroville's most beautiful forests and parks, and destroying important water catchment areas, some Aurovilians have approached India's National Green Tribunal, which in turn emphasised the necessity for Environmental Clearance before any clearing of natural sensitive areas. To date, this Environmental Clearance hasn't yet been received, and Aurovilians have been meticulously documenting all of AVFO's infractions to the Tribunal's ruling. Aurovilians strive to protect the re-afforestation work that they have carried out for over half a century. Additionally, Aurovilians have also mobilised to safeguard an important meeting room in the Town Hall, organising 24/7 shifts for over a year.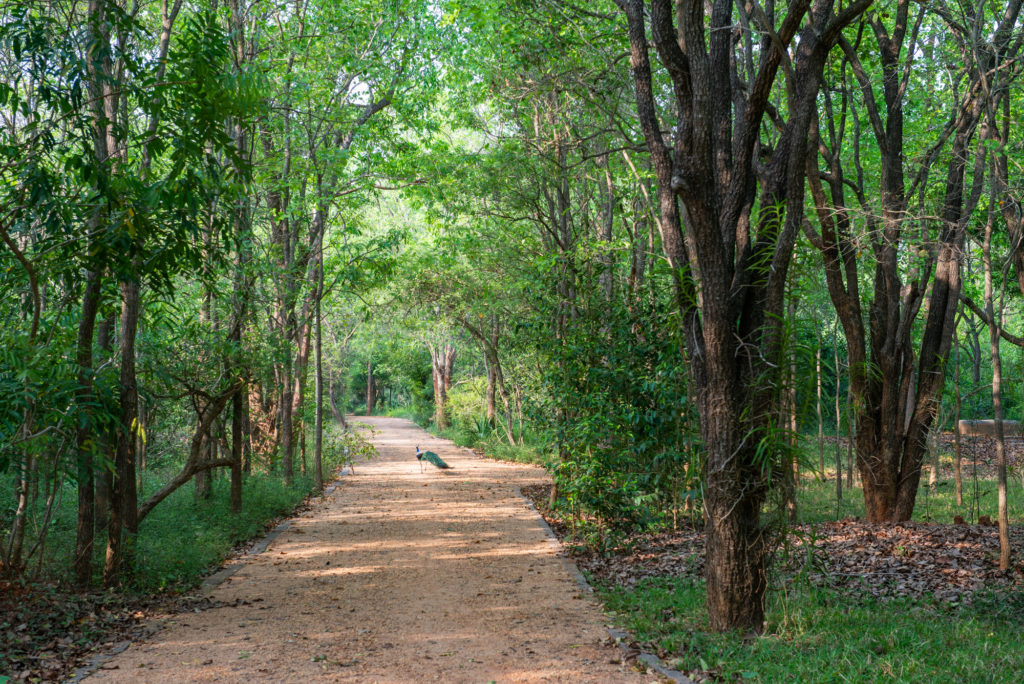 Nurturing Dialogue & Unity
Over the past 18 months, many attempts have been made to foster dialogue – even if their results may not be very visible yet. Options for mediation between residents' representatives and AVFO's associates have been explored and suggested. Initiatives to restore trust and communication between Aurovilians sharing different perspectives have been carried out – either by concerned Aurovilians or by external researchers and experts. Residents' representatives have met with the Chairman of the Governing Board and suggested that amicable solutions could be found – an effort that hasn't yielded results so far. An important meeting was held between members of the International Advisory Council and the Auroville community, where both parties could express their views, concerns, and suggested ways forward.
To restore spaces for communication in which all views could be expressed without abusive censorship, Aurovilians and their representatives have created new digital solutions for online conversations. The News and Notes, the community's historical weekly periodical that had been taken over and censored, has been revamped, and a new journal that upholds all perspectives – including that of the AVFO – has been created.
Last but not least, the Auroville community has been meeting regularly not only to discuss but also to engage in shared spiritual practice. Events invoking the spirit of Auroville were organised, and silent meditations – for peace and unity – take place regularly. Auroville's most essential asset is its inner journey, and Aurovilians have been nurturing it, both individually and collectively.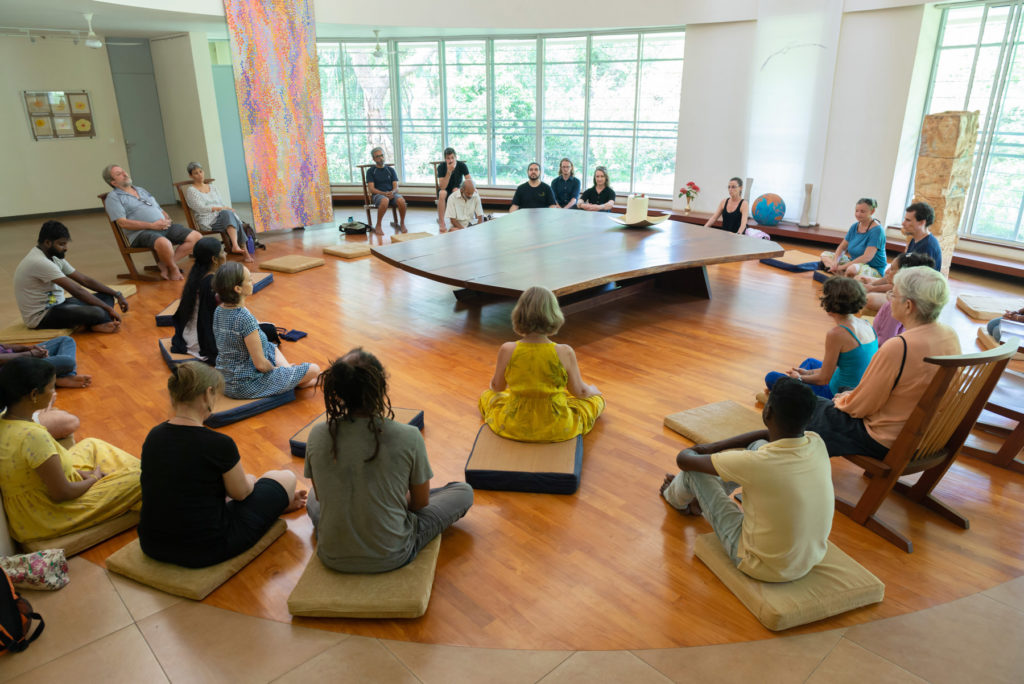 Despite moments of fear, anger, and even occasional hopelessness, residents of Auroville have demonstrated the essence of a genuine community. Auroville has showcased its enduring tenacity and perseverance, persistently aspiring towards the profound ideals that deeply motivate it. Certainly, there remains room for progress, and Aurovilians humbly acknowledge that the vision outlined by the Mother still remains a considerable distance from full realization.
However, with over five decades of unwavering dedication and accumulated experience, the Auroville community now more than ever exemplifies its remarkable resilience amidst crisis. Those who have devoted their lives to manifesting its ideals continue to appeal for the assistance and support of well-wishers from India and around the world, with the intention of preserving and ensuring the survival of this remarkable and unparalleled journey known as Auroville.